Solar Power Spreads Rapidly Across South Arkansas
At Ouachita Electric Cooperative's 2017 Annual Meeting, solar power was the hot topic. OECC and TPI "Flipped the Switch" on a one-megawatt community solar array, Southern Arkansas University Tech (SAU Tech) and OECC threw their "Hats Off to Solar," and South Arkansas Telephone Company (SATCO) and OECC sign a solar power service agreement with Today's Power.
It is no wonder why solar power is spreading across South Arkansas. Since 2015, the amount of solar installed has increased by nearly 50%. According to an article written in Bloomberg, "thanks to large utility-scale solar farms and commercial solar gardens, power derived from the sun is rapidly expanding as cost reductions continue to spur demand. The cost of energy from solar over the lifetime of the system, already just one-quarter of what it was in 2009, will drop an additional 66 percent by 2040.
With the help of Ouachita Electric Cooperative (OECC), Today's Power, Inc. (TPI) will have approximately 2, 250 kilowatts of solar installed in south Arkansas. That is enough solar to power nearly 550 homes annually.
Ouachita Electric Cooperative to offer the first community solar program in south Arkansas to its members
There are 25 states with at least one community solar project on-line according to the Solar Energy Industries Association (SEIA), but the one-megawatt solar array dedicated at Ouachita Electric Cooperative's (OECC) Annual Meeting was the first of its kind in South Arkansas.
Community Solar Fields are often sponsored by local utilities and often time are located on public or utility-owned land. Community solar is a simple option for those who are unable to procure solar or install it on their property, to benefit from a "locally grown, locally owned installation." Here are a few other examples of why homeowners of businesses may prefer community solar:
Roof may need re-roofing or have too much shading
The size or orientation of roof or solar array may be improper
Installing solar on/at a rental property may be prohibited
Some commercial buildings have equipment installed on top, obstructing an installation.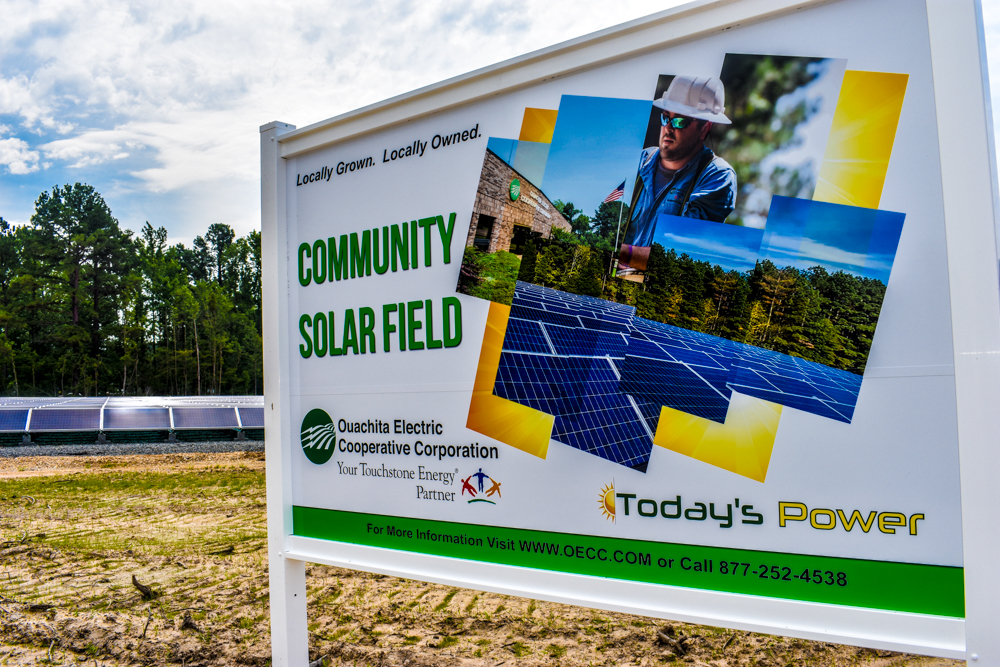 "Locally Grown, Locally Owned"
The Holly Springs-based facility is a one-megawatt system designed by Today's Power, and is made up of 3,840 panels that encompass approximately five acres of land. The system is projected to produce 47,576,726 kWh over a 25-year period. That is enough energy to power approximately 250 homes annually. This system will serve as a community solar option for the members of OECC, and is the first community solar field in the southern region of Arkansas.
At the meeting, Mark Cayce, General Manager and CEO of OECC said that "community solar is an opportunity for many of our members to have renewable energy that would not be possible at their individual home location. Participating in a community solar project is an affordable option that eliminates the problem of mounting a system on your roof and maintaining it for the next 25 years. He said, "Community Solar lines up with our cooperative values and we wanted to do the right thing for our members, and that is why we partnered with Today's Power."
Like the concept of a community garden, OECC's community solar program allows many of its members share the benefits of a "locally grown, locally owned," installation. Interested members will be able to subscribe to the cooperative's program and receive credits on their bills.
"One of the things we've had an opportunity to look at while working with OECC is how the electricity industry is changing," said Michael Henderson, president of TPI, and developer of the project. "We must be cognizant of new kinds of approaches in the electricity industry. OECC has shown that they have their finger on the pulse of this changing environment with the renewable options they are offering."
According to SEIA, the U.S. community solar market will add 1.8 gigawatts of solar in the next five years
Solar Test Facility at SAU Tech
As the solar industry is poised for growth, there will be more of a demand for qualified professionals to develop, install, maintain, and even communicate ideas on renewable energy technologies, such as solar power. In support of this landmark change in the electrical industry, OECC has provided a 4 KW solar kit designed by TPI to the SAU Tech Solar Test Facility.
"Solar is an emerging industry in Arkansas. Having qualified trained technicians to install, and maintain these systems is vital to the long-term success of these businesses. SAU Tech was created to provide this type of training. Multiple solar arrays nearby and now on the campus have created a unique educational opportunity," said Mark Cayce General Manager for OECC.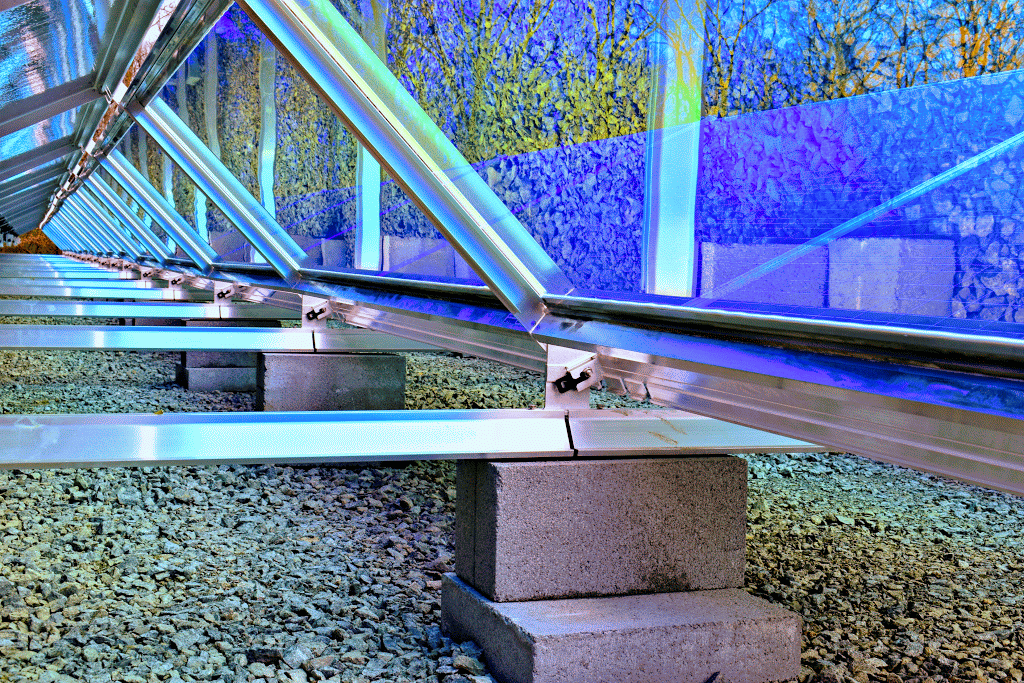 1 Out of 50 New US Jobs Came From the Solar Industry in 2016
Such promising career prospects have made the idea of studying renewable energy a reality at Southern Arkansas University Tech (SAU Tech).
"As a member of the Ouachita Electric Cooperative community, SAU Tech is excited to be a part of this new effort to introduce solar power in our area. The possible opportunity to train the solar technicians of the future is a win for SAU Tech and for our community," said Dr. Jason Morrison, Chancellor at SAU Tech, during OECCs annual meeting.
SATCO and Ouachita Electric Cooperative with Today's Power, Inc. to Build New Solar Array
Today's Power, Inc. was created by Arkansas Electric Cooperatives, Inc. to offer cooperatives interested in community solar an affordable and reliable option for their members. With that success, Today's Power extended its reach to help commercial businesses operate responsibly and hedge against future energy costs.
Companies across America have been utilizing solar energy. Here's why:
Strong ROI
Government Incentives
Hedge against future rate increases
Benefits of PR and Marketing
Environmental Stewardship
South Arkansas Telephone Company (SATCO), who provides telephone services in the Hampton area, and Ouachita Electric Cooperative have agreed to install a 120 kW solar array to provide energy for SATCO's operations in Hampton Arkansas. The solar farm will be designed and built by Today's Power Inc. This will be the second time SATCO and OECC have partnered in the last year, for the two organizations partnered in 2016 to create a new company ARIS (Arkansas Rural Internet Service) to provide fiber to the home for OECC members and parts of South Arkansas.
During OECC's annual meeting, contracts between OECC, TPI, and SATCO were signed to symbolize the partnership between the three organizations.
"Working with both OECC and SATCO on this solar project shows the commitment of both entities to continue their efforts in offering low costs to their members and customers throughout south Arkansas," said Chris Burnley, Director of Business Development for Today's Power, Inc.
The Hampton-based facility, which is scheduled to be completed in the fall of 2017, will involve an array of 400 modules. The output of the energy produced by the array will reduce SATCO's operating costs.
"Our partnership with OECC has been very important in helping us become the first solar powered telephone company in Arkansas and help us deliver more products at a lower cost to our customers." Said Mark Lundy with SATCO.
Read the Previous Article [Today's Power Looks Ahead]
Today's Power has partnered with electric cooperatives across the United States to power their cooperative with solar power and empower their members.
With this success of designing systems for demand mitigation, power purchase agreements, and to achieve other specific goals, Today's Power has extended our services to select commercial, industrial, and agriculture customers and in result have worked with major companies ranging from Husqvarna Group, Tyson Foods, and ERMCO.