CONTACT US TO GET STARTED
Interested? Have Questions? E-mail us at customerservice@todayspower.com
WHAT ARE YOU CUSTOMERS' RELATIONSHIPS TO THE GRID?
At the core, engaged customers are empowered, satisfied customers, but many utilities fail to engage their customers. Understanding what your consumers desire when it comes to the grid is key to building long-lasting, engaging relationships with them. Community solar is a tool to tap into your consumers motivations and sentiment by lowering their monthly bill and providing them with a sense of environmental stewardship.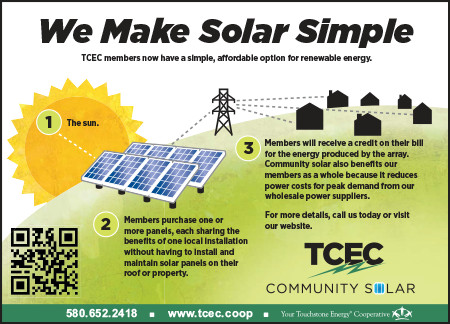 TCEC was the first utility in Oklahoma to offer its members a community solar option. TCEC Community Solar provides a renewable energy option for members who want the benefits of solar ownership without the research & construction of a roof-top system.
COMMUNITY SOLAR FINANCING NOW AVAILABLE
Without taking on the burden of getting into the consumer lending business or offering to financing throught the cooperative's own balance sheet, Electric Co-ops can now make community solar more accessible for all of their members.
YOUR COMMUNITY SOLAR PARTNER
Owned by Electric Cooperatives, Today's Power understands the Utility Industry from the culture all the way to how utilities are billed. Created to manifest reliable, affordable, and responsible solar solutions for the utility itself and it's customers. Today's Power makes the switch to solar effortless by offering financning, system design and engineering, monitoring, and maintenance.